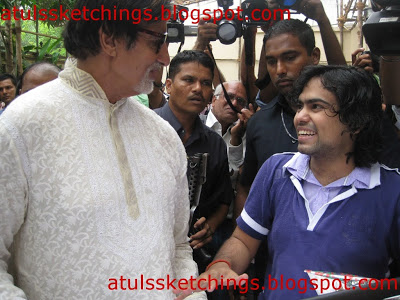 ---
A First meet with Bollywood Shehanshah Mr. Amitabh Bachchan
Posted on: October 15,2010
---
This meet was very interesting. I connected Mr. Bachchan though his blog. I was very impressed with his writings. I started connecting him on regular basis. On my request I was invited by him. I presented my art work. This was his 68th b'day I think. I have shared my experiences of this meet on my blog. For complete story
This is the second time I have sketched my big friend, my gurudev, my mentor, my inspiration, star of millennium 'Sri Amitabh Bachchan Ji'. Actually, I was supposed to sketch him for my art show happened last month but because of time constraint I could not make it at that time. I decided, I will sketch him for his b'day as a b'day gift. His birthday is a very special day for 'Teji Bachchan' and 'Harivansh Rai Bachchan' for being blessed with adorable dazzling son, a very special day for 'Jaya Bachchan' for being blessed with proud lovable husband, a very special day for 'Abhishek' and 'Shweta' for being blessed with responsible father, a very special day for 'Aishwarya' and 'Nikhil' for being blessed with such a caring in-laws, a very special day for entire Indian film industry for being blessed with incomparable talented actor and obviously a very special day for all Indians for being blessed with such a lovable, charming hero. He is a 'prabhu' for someone, he is a 'pitamah' for someone, someone call him 'gurudev' and a sweet heart for someone. An amazing personality that has ability to attract crowd, that has unique lovely smile, that has unique attractive voice and certainly the greatness with calmness. Words are not enough to write about him.
I met him on his Birthday. I got an appointment scheduled for 11 AM. I started from my friend place around 9:30 AM. I took the cab and asked driver to stop by at bouquet shop. I purchased one lovely bouquet and reached exactly at 11 AM. Oops.. what I see there, a huge crowd were spreading in front of his house 'Prateeksha' gate. After some time, it also started raining heavily! people were getting wet, but who cares! No one moved from his place. I was really mesmerized by seeing devotional feelings towards our hero!.. Just to keep safe Big B's gift (the above sketch) from rain and crowd, I was standing little aside covering sketch with plastic sheet. In few minutes, I got completely drenched. In same condition, I was interviewed by 'Zee News' reporter. After this small chat with media, I see, the rain is slowing down. I tried to reach manager in 'Prateeksha' and asking about my scheduled appointment. He was also helpless because of this big crowd. Very next minute I hear people's scream. It was nothing, all fans could take a glimpse of thier hero, none another than our 'Bachchan' sahab. I dint take any risk to jump into this crowd. Since keeping safe my gurudev's sketch was most important thing for me. After 15 minutes, he leaves the place 'Prateeksha' and headed to 'Jalsa', the other house. you won't believe people were crawling on his car and followed him till 'Jalsa'. But I was waiting there only just to check out my appointment status with manager….he asked me to meet Amit Ji at his office 'Janak' at 1 PM. This was the time for media to interact with 'Bachchan' sahab. I was taken inside the office for presenting the gift. Interview starts in couple of minutes. This was a traditional interview in his own style, like….."arey bhai ab sattar ke ho chale hein…itna sab kuchh yaad nahin rahta" 🙂 …..very down to earth person!.. After the interview, next moments God kept for me. I presented his gift, the sketch. I asked to open up the gift paper and all security persons helped him in removing that. He appreciated my art work in his own style…"bhai kaam to bahut achcha kiya hai"…I was glad to hear his words and replied saying- Thanks Gurudev!….then he asked me.."arey bhai is per kuchh likhna hai kya?"… I said naa naa.."aapke liye hi laaye hein"…and he was very happy to hear this…then he asked me for what else?…I said nothing 'gurudev' only a lovely warm HUG…and yes, he gave…you can see that in below given photo..
what a moment this was! ahhh… I had seen this in my dream few days before and came true on this day. It was really an unforgettable moment. I am more energized and motivated after meeting with him. I really appreciate his agility and commitment towards his work on his 68th Birthday. How fresh he was looking at that moment, despite such a hard work and very less sleep! Hats off to you Amit Ji for this! 'AMITABH JI', YOU ARE INCOMPARABLE!!!!!!!!!!!
your comments are most welcome on his sketch!
Best Regards to all my loved ones,
Atul Ojhal