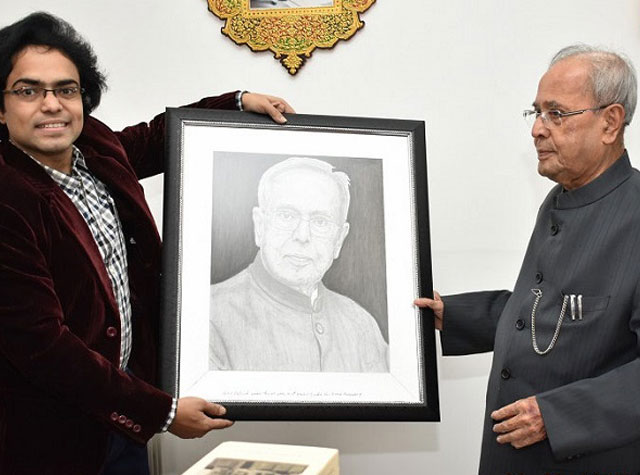 ---
Meeting with Pranab Mukherjee (President of India)
Posted on: December 12,2017
---
Friends, this was most awaiting and proud moment for me, when I was invited by 13th President of India, shri Pranab Mukherjee on his birthday. I received a call from his office on the eve of his birthday and was given an appointment time over the phone.
I planned a visit to Delhi from my hometown Firozabad. My eldest brother also joined me in this meeting from Delhi. We reached the destination 40 minutes prior to the appointment. I was told that before your meeting 6 Governors meetings are scheduled. I was asked to wait. No issues, excitement was on top floor ! 🙂 .. But suddenly hear a voice of his secretary, "Hey Atul Ojhal, please come soon, President sir is calling you". We just quickly rushed to his room. Finally, we meet him, handshakes him, grab his blessings by touching his feet and present my art work, his portrait. He himself and his staff appreciated my art work. Here are few glimpse from this meeting.
I thank his secretary, his other staff for beautifully arranging this art presentation and certainly Pranab Da himself for this meeting and accepting my art work.
I will soon come with some new art works and meetings with another celebrity. Till then you improvise yourself and keep blessing me. ?
Love & Regards,
Atul Ojhal