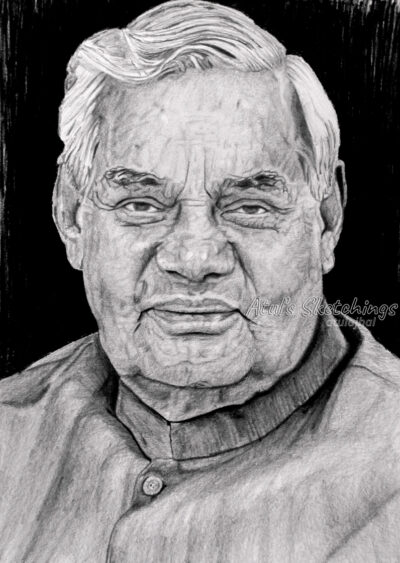 ---
Atal Bihari Vajpayee (An Eloquent Leader)
Posted on: December 25,2015
---
First and foremost, I apologize to my all followers for posting after a long span of time. Though I was continuously posting it on some other media, my FB page. (https://www.facebook.com/atulssketchings/)
Starting again with this post really making me happy. This day is the birthday of none other than former PM of our country 'Bharat Ratna' Shri Atal Bihari Vajpayee Ji. This is my second art work dedicated to him. I decided to sketch him again after a chain of request from my well wishers.
I have a strong desire to meet him and present this art work. But Atal Ji is not available for public meetings because of his health problems. I am hoping for this meet soon. May he becomes well soon and accept my art work.
Atal Ji always wanted to see India a developed country. His efforts towards this direction were really awesome but he did not get that much time to implement those ideas. Finally, his dreams were not fulfilled in his tenure. But we could expect it from current government and especially when his disciple & most favorite leader Narendra Modi is Prime Minister.
Friends, there is a good news for you all. On your request I have developed my own website for my art works. This site contains an Art Gallery, Events and Arts on Demand pages. Now you could order an art work from "Arts on Demand" page. For that you just need to fill the order form and submit it. Do visit. Here is the URL address for my website – https://www.atulssketchings.com/
I will come up with next post soon. Till then please share this post as much as possible. Do join my FB page Atul's Sketchings and invite your friends there. Stay Calm and cool my pals 🙂 May God Bless you All ! Merry Christmas and a very happy new year 2016 in advance !
Love & Regards,
Atul Ojhal