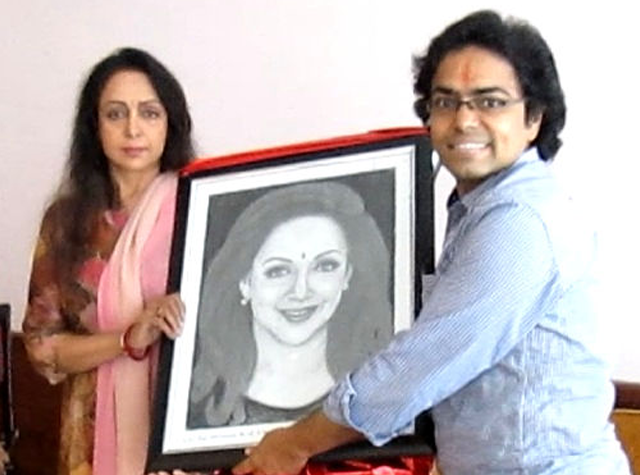 ---
Meeting with Hema Malini (Dream Girl)
Posted on: October 24,2016
---
Dear friends, I apologize for not writing a post for a long time. Nowadays I am more active on other social platforms. My artworks and updates are posted on my Facebook page Atul's Sketchings and on my Twitter Handle @atulojhal. You could join me there for faster updates on my artworks and events.
I feel the selection of the image to sketch is the toughest and the very important task. This took me really a much longer time in this case. After the selection of the image, I started with HB pencil first then 2B, 4B, 6B, 10B and Charcoal Pencils. 4B and 6B used in the eyes. 6B and 10B used in hairs. 2B and 4B on the face. 6B is extensively used for giving the 3D impression which actually makes the portrait more realistic. 'Hard' charcoal pencil used in the background. After giving the finishing touch, took the picture using the digital camera.  
The dream of meeting with Dream Girl came true in the month of September on 26th. It was a very nice meeting with her. I got the opportunity to present my art and poetry work. She appreciated the art and applaud the poetry as well. Thanks to Mr. Janardhan Sharma for setting up this meet. This meeting was held in Mathura District of Uttar Pradesh from where Hema Malini Ji is the Member Of Parliament. Here is the glimpse of the art presentation.
Sharing the glimpse of poetry presentation as well.

Hope you like my this artwork, a portrait of Hema Malini Ji. I will post the next art very soon. Till then you improvise yourself and keep blessing me. 🙂
Love & Regards,
Atul Ojhal