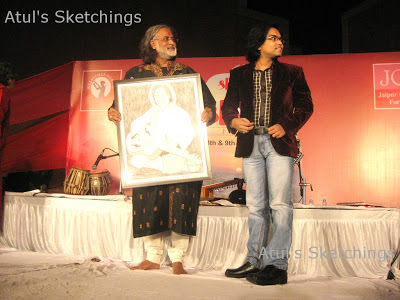 ---
A visit to Grammy Award Winner Pandit V.M. Bhatt's concert
Posted on: December 12,2012
---
I was invited by Pandit Ji himself in his concert in Jaipur. I presented my art work his portrait just after his performance. He is most humble person. He appreciated my art a lot and waved all around the corner of the stage. I got chance to meet Hari Haran Ji as well in the same concert. For complete story
My apologise on delaying post for such a long time. Extremely sorry for this. Its been really a learning period for me. I had to go through life's difficult circumstances in this period. My parents were not well. I also had health issues, specially lower back pain. It could be because of over stress while practicing Tabla, Guitar and Keyboard. Mom still not well and I am recovering. In this span even scheduled things could not happen on time, all delayed. These things keep remind us that there is someone Who is controlling all of us and having a remote control. The Supreme power, Almighty !! But my dears show must go on. So its on ! I could not entertain you all with my art works. But I can ensure for next one soon. May I beg forgiveness for this unwanted delay this time ?
You could learn by now with this portrait and post title. He is none another than Padm Shree (2002) Grammy Awardee (1994) Shri Vishwa Mohan Bhatt. He is creator of Mohan Veena. This instrument was named on his name only. 'Mohan' was taken from his name 'Vishwa Mohan'. He has performed in 81 countries according to one music forum in Jaipur where I was invited by Vishwa Mohan Ji couple of days ago. He was glad to see my art work, this above portrait and I was overwhelmed by the response of audience. Thanks a lot Pandit Ji for this opportunity, invitation and the appreciation later on. None the least, A big thank you to all of you who actually encourages me to contribute my efforts in Arts, Music & Literature. Below are couple of pics from event.
I was lucky to meet one more living legend Shri Hari Haran Ji on the same evening. Sharing you one pic from his performance also.
Some more updates would come soon. Keep in touch. I need your wishes and blessings ! …and ya this post on very special date and time, its 12:12:12:12:12 🙂
Regards & Love,
AOD