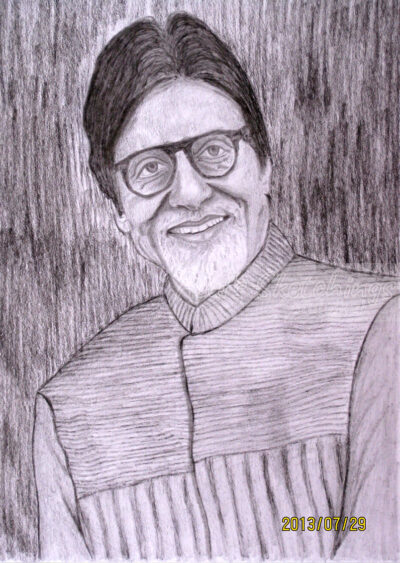 ---
Amitabh Bachchan (Bollywood Shehanshah)
Posted on: July 31,2013
---
So the wait is over my dear friends. Here I come with my next art work, the portrait of none another than "The Star of Millennium" "Boollywood Shehanshah" Shri Amitabh Bachchan Ji. I scheduled the portrait for another legend but once I came to know that there is one important day is about to come. I reschedule it and prioritize this artwork for my beloved gurudev. The important day is the 2nd of August, the day when Amitabh Ji was reborn. He calls this day 'second birthday'. The day when he survived after coolie accident.
Shri Amitabh Ji has posted once on his blog. He said: "Happy birthday Mr. B, and never forget I was the first one to wish you." As you guys might know, the accident occurred on July 26, 1982, when a mistimed jump in a fight scene with co-star Puneet Issar caused him to hit the corner of a table and suffer a ruptured spleen. Doctors performed an emergency splenectomy but Amitabh Ji reportedly remained close to death. He was clinically dead for a while. With no sign of life on August 2, doctors injected adrenaline straight into Bachchan's heart. Jaya Ji then saw one of his toes move and exclaimed: "Look, he's alive," Then, August 2 has since been declared Bachchan's 'second birthday'. Happy Birthday, Amitabh Ji !!
So, the Maestro, this post and artwork dedicated to you. May you keep entertaining us by your incredible acting talent. The only thing is, we want you to see in such movies which throw a positive impact on our society rather just entertainment. People should get inspired by your character and work for social issues. I am very much excited for the next movie 'Satyagrah' by Mr. Prakash Jha, which is going to be released on 30th of August 2013 and expecting the fulfillment of our objective. My heartiest wishes for the next season of KBC. I think its KBC 7 this time. Hope it rocks as usual and you take yourself to the fullest !!
Now pals I take adieu for now and would return soon on this platform with my next artwork. Till then you be calm, steady and keep moving towards your goal! Keep smiling like Amit Ji in this portrait! …and yes there are a couple of lines for you guys on this beautiful smile, which I sent to Amitabh Ji previously.
परवरदिगार का अद्भुत तोहफा है ये मुस्कान ,
ख़ुशी की मौजूदगी की प्रतिनिधि है ये मुस्कान/ 
सच्चे दिलों में घृणा द्वेष की ये कातिल है ,
अन्तः मनोदशा का प्रतिलिपि है ये मुस्कान //

मुस्कानों का सुन्दर उद्यान है ये मुस्कान ,
वरदानों के रहस्य का विज्ञान है ये मुस्कान / 
स्वास्थ्य के उत्थान में ये सशरीर शामिल है ,     
मुखारबिंदु की अनुपम शोभा है ये मुस्कान  // – AOD

Take care !
Regards & Love,
Atul Ojhal