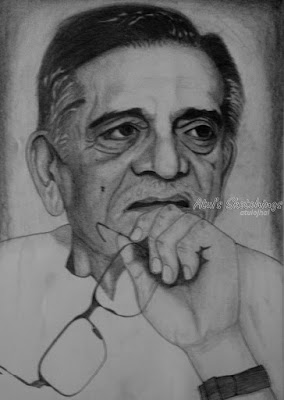 ---
Gulzar – A Living Legend (Lyricist, Poet, Scriptwriter, Film Director & Producer)
Posted on: February 25,2012
---
It's been a long time for my art work to be reviewed by my well wishers. So dearest ones here is an assignment for you :-). In this post as you would have recognized by now. The portrait is of a great Indian poet, Bollywood Lyricist, a Script Writer and a Director. He is none another than Gulzar Saab, a living legend. He was known with the name 'Sampooran Singh Kalra' before he penned his name 'Gulzar'. There is no need to throw light on him, on his work, his familiarity in India, world wide popularity since its very well known and felt like Sun rays which reaches everywhere ! The Maestro has a bunch of awards in his bag. 'Padma Bhushan' in 2004, Sahitya Academy award in 2002, a good number of National Film and Filmfare awards. None the less he penned the Oscar awarded song 'Jai Ho' too.
This sketch I completed a while ago and there was a meet also scheduled with the maestro. But because of his business in very important tasks it could not happen somehow. He was supposed to visit my town and meet me but his event didn't get materialized and finally meet could not happen. We say, there is a time for everything, so for this too ! Its all according to Almighty's creation. So we have to follow and satisfy with the same and keep trying doing our best.
I composed one small poetry in Gulzar Saab's excellency which I wanted to recite in presence of maestro and I would, when there is a meet with him. Here I would like to share couple of lines from that poetry. Enjoy reading —
सोच के समुन्दर में गोते लगाके, खोजे मोतियों से बनाते रहे हार
 प्रवीण प्रख्यात प्रवेन्द्र प्रेरक, लेखक कवी महान गीतकार गुलज़ार 

I will share the whole poetry after presenting it to him. It may happen very soon ! Gulzar Saab has released an album 'Tera Bayaan Ghalib' on 15th Feb 2012. This album contains Ghalib's letters recited by Gulzar Saab and Nazms by Late Ghazal's maestro Jagjeet Singh. Guys go and grab your copy!
As we all know, Bollywood Shahanshah Shri Amitabh Ji underwent abdominal surgery. It was a legacy issue from his accident happened while shooting for Coolie movie. A day before he was discharged from the hospital. Now medication will take place in his home only. My heartiest wishes for Amit Ji's speedy recovery !
New updates in my next post. Till then bye and May God Bless You All !
Love and Regards to All,
Atul Ojhal