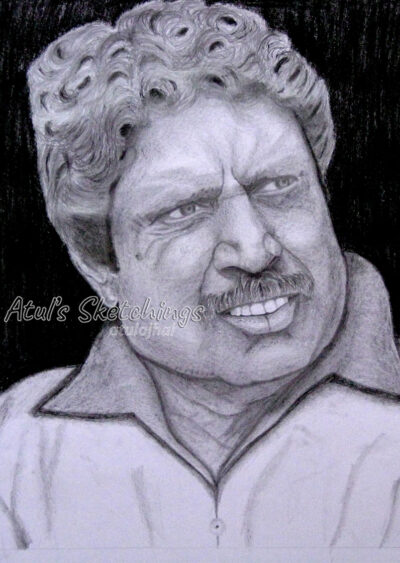 ---
Kapil Dev (Best Cricket All Rounder)
Posted on: September 3,2013
---
Hopefully, I am not late this time too, came soon with my new art work. As you could recognize by now, this is of Shri Kapil Dev, a cricket sensation of the '80s. His contribution to Indian cricket was unparalleled. India brought world cup title under his captaincy in 1983. He was awarded Arjun Award in 1980, Padma Shri in 1982, Wisden Cricketer of the Year in 1983, Wisden Indian Cricketer of the Century in 2002 and ICC Cricket Hall of Fame in 2010.
I did not see Kapil playing live. Still, I was a big fan of him just by hearing lots of applauds from senior members of my family. They used to tell me about his aggressive style of bat and bowl. The best one they told me about the match played between India Vs Zimbabwe in 1983 world cup. In this match, skipper played match winning inning and won the match even after the pathetic start from the top order. India lost their 4 wickets only on 9 runs. The score turned to 17 for 5 when Yashpal Sharma was dismissed. Then the master did partnership of 60 runs with Roger Binny and 62 runs partnership with Madan Lal. Syed Kirmani walked in at 140 for 8. Kapil put on an unbeaten partnership of 126 runs for the 9th wicket with Kirmani. Its been a record for 27 years. India finally won this match by 31 runs! Couple of years ago that record was broken by Mathews and Malinga from Sri Lanka in 2010.
Kapil is still the best All rounder in test matches with immatchable statistics. He is the only one who took 400+ wickets and 5000+ runs. I was telling this to my father and immediately he responded back with praise for him. The first time my father appreciated any cricketer. "I used to watch matches when Kapil used to play. I was a big fan of him". He said. This name strikes me and I decided to sketch him and present him the same. I have tried to portray his aggressiveness in this work. His expressions in my poetic way 🙂
" बॉल फेंकूं तो गिल्लियाँ बिखेर दूं , बल्ले पे चढ़ जाए तो आसमाँ चूम लूँ ! " – AOD 

Currently, Kapil is heading an NGO named KHUSHI in Delhi as a chairman. KHUSHI runs a couple of schools for the less privileged and provides education, food, and clothing to them. Kapil has been actively involved in supporting needy through KHUSHI since 2005. I contacted KHUSHI and requested for a meet with him. They have assured for this asap. I would share the snaps once it happens.
I am working on my next art work. I would try to come soon with the new one. Till then you be with calm and peace. May God be with you !
Love & Regards,
Atul Ojhal