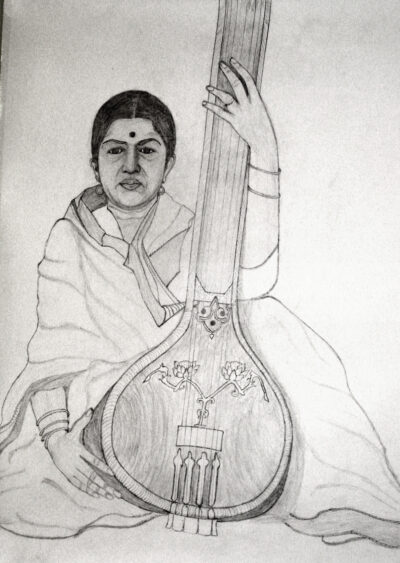 ---
Lata Mangeshkar (Maa Saraswati on Earth)
Posted on: January 28,2011
---
So..here is the first post of this year. I had a few more options to post with. But I thought of starting this year with Maa Saraswati only. You guys very well know whom I am referring to! None another than Bollywood Melody Queen Sur Kokila Sri Lata Mangeshkar Ji. She is very well known in India and won Bharat Ratna in 2001 for her tremendous incredible contribution in Hindi Cinema as a playback singer. Lots of information available on her a bunch of sites and in books as well. So, not indulging myself into providing the same.
Actually, this sketch I drew almost a year ago and decided to gift her. I had got the appointment also but at the eleventh hour, It could not happen. She had already left to her village when I reached her house in Mumbai. I think my hard luck. There is each and every moment of our lives decided by almighty. So no worries. If it has been written in destiny, I will meet and get her blessings too! As I shared with you all earlier, her sketch had been the most attractive and most demanding art in my first art show, happened a couple of months back in Bangalore.
I have not done any new sketch for a couple of weeks since I am not getting enough time for the same. Nowadays more focused on the music side. Probably in next post, I could share with you all some more updates on my music. It's difficult to work on times when expectations are more from you. You start feeling the pressure. But assertively, that's the actual strength which is supporting us, encouraging us to do more and alarming for heeding our objectives.
We lost a great personality, incomparable singer, maestro of classical singing Bharat Ratna Pandit Sri Bhimsen Joshi Ji on 24th of this month. This news spread everywhere like a fire in a jungle and the whole nation fell in deep sorrow. May his soul rest in eternal peace! I approached him last year to gift his portrait. But because of his prolonged illness, could not get a chance to make this happen. I think his blessings was not in my destiny. Anyway, he is no more with us physically, but yes, he is still alive in his songs! One of his most popular songs, "Mile Sur Mera Tumhara…." will always keep resonating in everyone's ears for years.
You all are my energy, my inspiration, my motivation and what could I say more…I think you all are cause to live this life and your invaluable support has made this life more beautiful. My religion is now entertaining you all, with all, what all God has blessed me with! Keep blessing and wishing me my dearest ones! My best wishes to you all too!
Your comments are most welcome on her sketch!
Best Regards to all,
Atul Ojhal