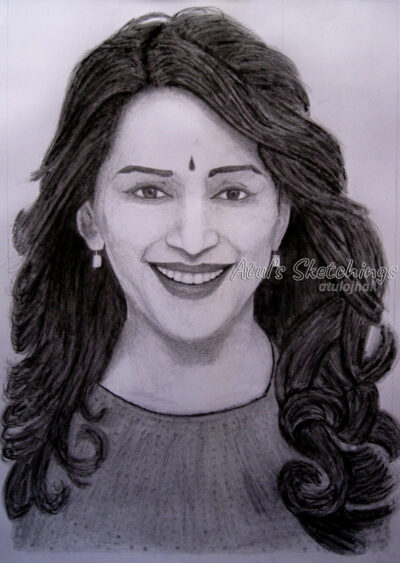 ---
Madhuri Dixit (Dhak Dhak Girl)
Posted on: October 9,2013
---
Hopefully, I did not let you wait for so long even after my bad health. This time, the art work is dedicated to most respected versatile Bollywood actress Shri Madhuri Dixit Ji. I thought of portraying her couple of years ago. But it was replaced by Aishwarya Ji. The reason, I got an invitation from Shri Amitabh Bachchan Ji on his father's birth anniversary. So I could not do that time.
Madhuri Ji is popular as 'dhak dhak girl' because of her "dhak dhak karne laga" song from 'Beta' movie. Personally if you ask me, I liked her each and every scene of "Hum aapke hain kaun". Mr. Suraj Badjatya sahab really produced his best and came up with the box office super duper hit. It is just one example. These are in huge number when Madhuri name strikes in mind. She proved herself so many times and became most successful actress of Bollywood.
After such successful acting career she was very much successful in her personal career also. She married to Dr Shriraam Madhav Nene in 1999. He is a Cardiovascular Surgeon practiced in Denver for a decade span of time. They have two children Arin and Raayan.
Madhuri Ji came back to acting couple of years ago with "Aaja Nach Le". Though movie could not do that well but Madhuri Ji's performance was very well appreciated and she was nominated for Best Actress Filmfare Award for record thirteenth time. She got good break with television. She is judging "Jhalak dikhlaja" dance reality show relaying on Colors with Remo Desouza. This show is doing excellent and she is being very well appreciated by viewers. I have composed couple of lines on her extraordinary career, sharing with you all too.
सर्वश्रेष्ठ अदाकारी का जीवंत उदहारण है,
अलबेला व्यक्तित्व और भी साधारण हैं /
'धक धक' गाने से बसी दिल धडकनों में ,
युवाओं की मल्लिका आती रहीं सपनों में //

चाहे वो मुस्कान हो, चाहे नृत्य की शान हो ,
आन बान हो, या फिर संस्कृति का मान हो /
हर क्षेत्र में फिल्म उद्योग की बनी रही धुरी ,
करोड़ों जुबाँ पर पसरी हैं आज भी ये माधुरी // – AOD

I wish Madhuri Ji a successful career ahead. I still see a huge appetite for acting and dance. I am a big fan of her dance moves. She gets lots of tips from Saroj Khan and Birju Maharaj. Both undoubtedly deserve to be her Guru. I always wanted to portray Birju Maharaj prior to Madhuri Ji. And by God grace, I could do that. Last to last artwork was of Birju Maharaj Ji only. You guys would have glimpsed it before. If not, here is the link. Click Here.
I thank everyone who all comment and share their feelings on this platform. I am grateful to their love and affection shown to me. Friends, I shall come soon with my latest work. Till then you all keep enjoying your life. Navaraate are going on. May Goddess Durga bless us all with prosperity of humanity, strength, peace and love.
Love & Regards,
Atul Ojhal