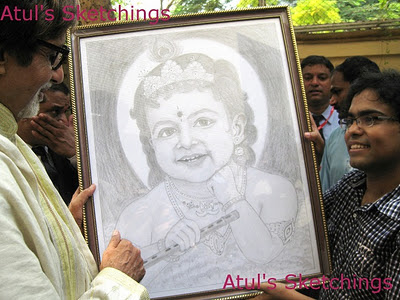 ---
Meeting with Bollywood Shehanshah Mr. Amitabh Bachchan
Posted on: October 19,2011
---
This visit too was very interesting. I connected Mr. Bachchan though his blog. I was very impressed with his writings. I started connecting him on regular basis. On my request I was invited by him. I presented my art work. This was his 68th b'day I think. I have shared my experiences of this meet on my blog. For complete story
First of all, my apologies to all sketching lovers and my well wishers for not posting any new portrait for last couple of months. But now wait is over and I come up with my next post with new sketch of none another than Star of Millennium Shri Amitabh Bachchan Ji. I met him this year also on his 69th B'day on 11th October 2011 at Janak, Mumbai. As usual the meeting was superb. He was glad after seeing the effort ! In spite of pain in rib he gave ample amount of time to his well wishers. There was no reluctance at all from his side. After press conference he gave separate time to EF (Extended Family- he call his blog followers). Everyone presented there invaluable gifts to beloved Amitabh Ji.
In last meeting, he gifted me one book. In that book, I found his picture of age of two, the youngest pic available publicly. I thought of sketching this pic in big size and transform into Krishna form. It came out as imagined. The theme behind this portrait was, Aishwarya look at this and give birth of a incredibly talented baby like Krishna who resembles his grandfather. I shared this with Amitabh Ji. He was glad to hear this and promised me, he will show it to Aishwarya. 🙂
I was in discussion with couple of musicians for my next projects but they were all busy with their tasks. I think I need to wait for some more time to get the big name !
Here are couple of links where you could see me presenting this portrait to Amitabh Ji.
http://www.bollygold.in/showthread.php?5367-Amitabh-Bachchan-celebrates-b-day-with-fans/page2&s=95af51d3d851083659fe1a31919ab7bb
http://www.youtube.com/watch?v=n8Sl7ibX6Ss
http://in.movies.yahoo.com/photos/amitabh-bachchan-celebrates-his-birthday-1318327613-slideshow/amitabh-bachchan-celebrates-his-birthday-photo-1318327187.html
http://ibnlive.in.com/photogallery/4998-7.html
http://www.india-forums.com/event/3684/163503-amitabh-bachchan-celebrates-his-69th-birthday-with-media-at-his.htm
http://www.dailymotion.com/video/xlmssi_amitabh-bachchan-greets-his-fans_shortfilms
http://www.youtube.com/watch?v=Nk-QUq_eKHc
Thanks for your appreciation and wishes through different different medium. I loved them. I will come up with new work soon. Till then good bye from this medium.
Regards, Love & take care all,
Atul Ojhal
P.S.> Many congratulations to Amit Ji for receiving 4th honorary doctorate from Queensland University Of Technology, Australia.