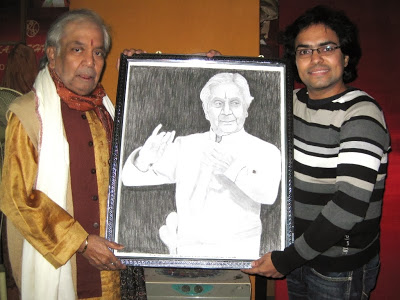 ---
Meeting with Kathak Maestro Birju Maharaj
Posted on: December 16,2013
---
You talk about Kathak Birju Maharaj comes first in our mind. He is the person who become popular in all over world for his unique artistry. I got privilege to meet him at his institution in Delhi. He humbly accepted my work and displayed in his classroom. For complete story
Finally came out from difficult circumstances and got chance to meet and greet one more legend. This time from culture, Padma Vibhushan Pt. Birju Maharaj Ji. The visit has been really fantastic. The kind of human being he is I have no wording to weave with. Such a great personalty with no side effects ! He is simply amazing, adorable, down to earth person. He was glad to see my art work and complemented saying "gajab kar diya". Thanks a lot Pandit Ji. It means a lot !
I requested Saswati Sen Ji for this meet. She is his disciple and a well know Kathak dancer. She runs Kalashram in Delhi, a institute founded by Birju Maharaj Ji. The request took little long because of the legend's tight schedule some time and some time my absence because of my father's illness. But finally one day I received the invitation from Saswati Ji through mail.
I was excited and wanted to see Ustad Ji asap. I reached Kalashram and saw so many of his disciples were practicing hard. I enjoyed their performances thoroughly. Just after couple of minutes the legend enters in the lobby. He was quite and stepping fast. I touched his feet and introduced myself. He gave a sweet smile and asked me to stay back. The waiting period was about to get over. and yes I was called in his aura. I met him and presented my art work. Below are the couple of snaps from the meet.
When I was in schooling I used to read about him in genral knowledge book. The question used to be like "Who is the best kathak dancer" and the answer is "Pt. Birju Maharaj". I never thought I would meet this legend in my life. I thank to Almighty for this sketching gift. Because of this skill I am able to meet such great souls and grab blessings from them.
My father, I called him Baauji, went under surgery in previous month. After couple of visits to doctor. Baauji was advised a surgery. It went well. He is now in recovery stage and will be fine soon.
Thank you guys for appreciating my work. Your feedback are most welcome.!
Take care and rest well !
Regards & Love,
Atul Ojhal