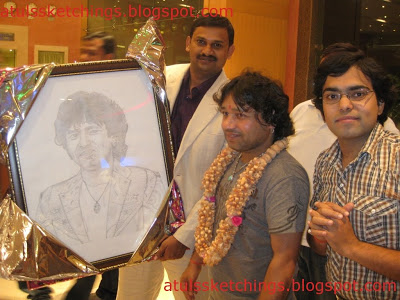 ---
Meeting with Sufi Singer Kailash Kher
Posted on: November 25,2009
---
This was the first time when I met any celebrity in my life. I was passionate about singing as well and especially a big fan of soulful singing. I got this opportunity when I was working with MNC in Bangalore. For complete story
Kailash Kher is an Indian Pop singer, primarily in Sufi songs. He was born in Mahalka (25 km away from Meerut, UP) on 7th july 1973 in a music environment. His father Pt. Mehar Singh Kher, a kashmiri brahmmin, was a folk singer and guru for Kailash in early stage of life. Kailash was very famous for his singing wherever he studied. His unique high-pitched voice touches souls. The song "Teri Deewani" is a perfect example of this.
He tried his luck in business but did not get a good success in that. His friends told him to try his luck in Mumbai where he first recorded a private album with composers Paresh and Naresh. That was when he came down to Mumbai and joined band called "Kailasa" which includes musician brothers Naresh and Paresh. Later he moved to Bollywood, the track "Rabba Ishq Na Hove" from the movie "Andaaz" was well received. In 2002, his song "Allah ke Bande" from relatively obscure movie "Waisa Bhi Hota Hai Part II", made him a household name. After giving some good hit songs in boollywood he started going into concerts with his band kailasa. The way he sings in his concert that is really amazing. He walks, dance,…while singing that actully gives him a variety in his singing and stand him in Pop singers list. He started looking for concerts outside the country as well. He is doing really great nowadays in foreign countries especially in US. He was a judge on the singing talent contest, Indian Idol on Sony TV. He is also a judge on the show "Kurkure Desi Beats Rock On with MTV", where he judges the "Desipann Quotient" of contestants. He recently entered into the Kannada film industry. Special mention has to be made to his song "Hale patre" from the movie "Junglee" has proved a huge hit among the audience.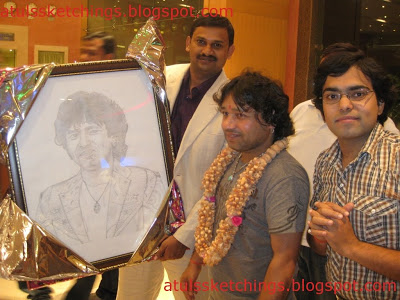 I have been to one of his concert in Bangalore. I had heard about him earlier but I could see also that day, how dynamic he is while performing. He was passing jokes also in between. Overall, his allround performance was absolutely tremendous in his concert. A day before his concert, I met him in Chancery Hotel Bangalore and gifted his sketch to him. He very well appreciated and said everything in his smile (a killer one, gals admit 🙂 ). In above photo, he is looking at sketch and appreciating me. I had a dream, I will meet him and gift his sketch. It came true that day. I really can not explain the feelings what I was feeling at the time of meeting. It was actually a strange pleasure. This all could have been possible only because of Mr. Pakul Chaturvedi who was manager for this concert. Pakul is very nice human being and very kind hearted guy. In Bangalore concert, Kailash Kher admited "we have released an album "Yatra" out side the country and by God grace we are listed in top 10 album through out the world". All the Best Kailash Ji, keep rocking!!!!
Your comments are most welcome on his sketch!!
~Atul Ojhal