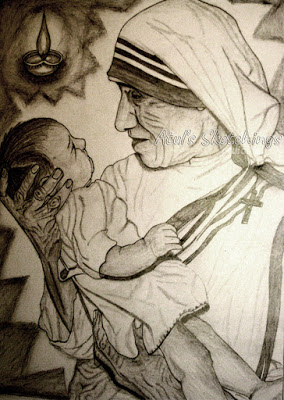 ---
Mother Teresa (Symbol of Peace and Love)
Posted on: December 29,2010
---
This above sketch I drew for my first art show, happened in Bangalore. I think few of you would have seen this picture in my art show's news in newspapers couple of months back. As you all can recognize it is of Mother Teresa's sketch. I do not need to provide any information on that. She is very well known for spreading peace and love through out the world. She was winner of Nobel Peace prize and India's highest civilian honor Bharat Ratna in 1979 and 1980 respectively. The reason behind sharing this Mother's sketch now in last moments of this year is, welcoming this new year with love and affection among each other in a very peaceful environment under a very caring umbrella.
This post is going to be my last post of this year. This entire year I could maintain only a post every month. Since I was very busy with other stuff too. Apart from this sketching, I was involved in Guitar, Tabla, Keyboard, poetry and song compositions. I spent couple of months on my first devotional album production also as a vocalist, lyricist and song composer. This album I dedicated to "Maa Durge". But because of few unfulfilled technical formalities, it could not be released on its scheduled time. Now I am targeting this release for this coming year 2011. Hope it works out well. Need all of yours blessings and wishes !
In last couple of months, I could get a chance to meet Star of Millennium Sri Amitabh Bachchan ji twice as you could see in my previous posts. I got nice appreciation words on my poetry work as well. If your love and affection always been with me like this then definitely I will try entertaining you all as much as possible with my arts, music and what all God has blessed me with.
Thanks for being with me and sharing your feedback and thoughts on my arts. Your appreciation words are energy for me, which motivate me to go ahead and produce something better and better. And your critics are lessons for me to get rid of with my mistakes. Now ending this post with new year wishes to all.
"Wishing you all a very happy, prosperous, peaceful, fruitful, and lovely New Year 2011 ! May all dreams come true in this new year and give you a wonderful life with full of love, affection and enthusiasm and more !"
Keep passing me your feedback and suggestions. You are most welcome !
My Love and Best Regards to All of You,
Atul Ojhal