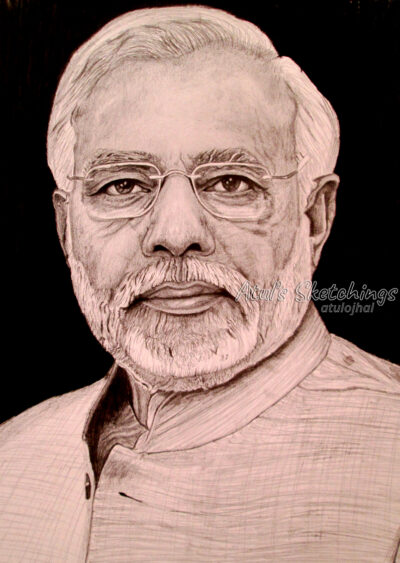 ---
Narendra Modi ( A committed leader )
Posted on: January 14,2014
---
A child since his childhood inclined to spiritualism. The intensity increases as he grows. He used to share most of the time with religious mendicants. His family gets tensed to see his inclination. They started thinking about his marriage. It did happen and he got married to a girl. Still his interest keeps the same virtuous thoughts. Family folks and his relatives creates a pressure on accepting the marriage life. Despite this pressure his interest remain unchanged. Instead of going for the married life he opted the Supreme once again. He left home and reached to Himalaya. He spent some three years there. One day he returned back home with an intention of dedicating his whole life to the nation. Yes, he did that and still could carry the same motive with an immatchable will power. The child was none another than you see in the above sketch, PM candidate for 2014 elections Gujrat CM Shri Narendra Modi. He is being very popular with the name NaMo !
The kind of success he has achieved in 10-12 years serving Gujrat's people as a Chief Minister is been remarkable and doesn't require any note here. It would be quite enough to say in few words that he completely transformed the state to world class level. Gujrat became best performer in most of the departments whether its electricity, water, infra structure, education, etc..
There had been a strong desire to sketch Modi Ji for a long time. I am very much impressed with his public persona. The way he is running state, the way he speaks with his team mates and the way he gives speeches make me speechless. I don't see which party he is coming from, I don't know which caste he belongs to and I really don't want to know though. I see an angel in him whom Almighty sent for mankind and welfare.
Today is Makar Sankranti. I wish you all a very happy Makar Sankranti and all other festivals being celebrated all over the country. Let's offer our prayers to Soorya Narayan for going Uttarayan and give some relief from this chilling cold in north India….just strikes few words and I woven them into a couple of lines…
उजियाले न रहे भ्रान्ति, हो जब जनहित क्रांति /
   सूर्य आते ही 'मकर' में, मनने लगे पर्व 'संक्रांति' //

गुड में मिलाओ तिल, खाके खिल जायेंगे दिल /     
    मंजा चरखी ले छत पे, उड़ाओ पतंग सब मिल // – AOD

This year 2014 is very important for all Indians. We are going to have Lok Sabha elections this year. A vote is a right for every citizen. So we must use it and send the right and honest person to assembly. I would request an appeal to each one of you for using your right and vote for India! 
I will come soon with my new post soon. Till then you all be thoughtful and conscious of your choice !
Love & Regards,
Atul Ojhal