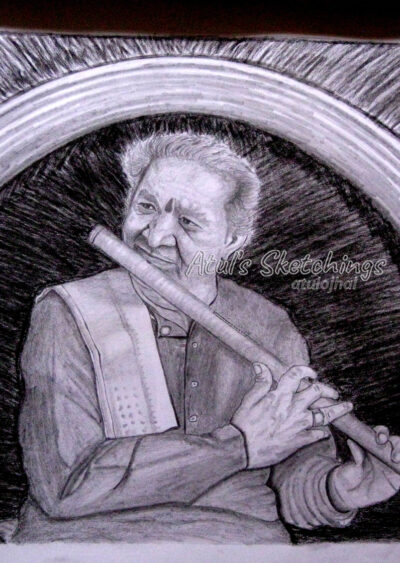 ---
Pandit Hariprasad Chaurasia ( Flute Maestro )
Posted on: September 13,2013
---
Two years ago, I planned to sketch a legend whom I admire a lot. When he plays his instrument, the flute, the whole environment turns into a beautiful garden. That gives immense pleasure and looks like Lord Krishna is playing flute sitting under a tree in Vrindaban…. But I could not start this art work that time. It used to get replaced by some other art work because of some reason. Finally, that moment came and I got chance to sketch this great man Padma Vibhushan Pandit Hariprasad Chaurasia Ji.
The legend is from Allahabad, Uttar Pradesh. As you guys might have read about him from the sources that his father wanted him to become wrestler. He did go for the training but it was just for pleasing his father. Almighty had decided something else for him. And it was a classical flutist. He learned flute from Pandit Bholanath Prasanna in Varansi for eight years. Later he joined All India Radio.
Hariprasad Ji got so many accolades. He was awarded Padma Bhushan in 1992, Padma Vibhushan, Hafiz Ali Khan Award, Dinanath Mangeshkar Award in 2000. He received Honorary Doctorates from two universities, North Orrisa University in 2008 and Utkal Universities in 2011. He has performed all over the world in his 55 years of his professional career. I dedicated two lines to the legend.
बांस में छिपे सुरों को, बांसुरी लायी उभार के ,
आपने उन सुरों को सुना, दिलों को चुरा लिया / – AOD

I thoroughly enjoyed sketching Hariprasad Ji. I have surrounded him with seven colors band. They are an indicator of seven swaras in music. I would love to be in his aura if I get a chance. It might happen soon.
The next art work might take some time friends. I seek forgiveness for this. I have some literature work this month. And my health also not well. I am still suffering from backache. My well wishers and family members have been asking me for a quite long to take it little easy and take some rest. My pals, I agree with you and follow your suggestions. But you know, I would not have sketched any if I had considered my pain. Last 4-5 sketches have been portrayed in a huge pain and it used to get aggravated every time I sketched. But this pain grief was quite lesser than the happiness of sketching. Since so many of you eagerly wait for my art works. I am grateful to them. Their thirst only inspire me to keep sketching. Thanks for being with me and motivating me dears ! My mother's recovery is been rapid this month. She has started walking with the help of walker. Doctors are hoping for her to walk by own soon ! Thanks to all who sent recovery wishes and prayers.
You all live your dreams respecting your elders, loving your younger, following your idols and connecting the Almighty !
Love & Regards,
Atul Ojhal