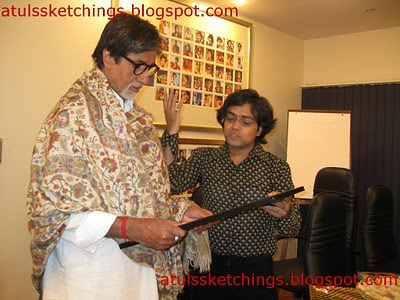 ---
Presentation of Art work and recitation of poetry work
Posted on: November 30,2010
---
This visit was just after a month time. I was invited to recite my poetry work "Harivansh Rai Ji ke Kavyon ka kavya" & "Zamana Bachchan Sahab Ka". I handed over my art work portrait of Aishwarya to Mr. Bachchan. For complete story
As you all can recognize, it is most beautiful Aishwarya Ji's sketch. No need to provide details on her as she is the most popular actress in Indian Film Industry. I had made this sketch for her birthday. I wanted to gift her on 1st November only. But I was at my native place on Diwali vacation so could not gift on her birthday.
I have been to Mumbai recently on great Hindi poet Shri Harivansh Rai Ji's birthday, 27th November. He is also father of star of millennium Shri Amitabh Bachchan Ji. Amitabh Ji call him 'Babu Ji'. I took one poem for 'Babu Ji' as a birthday present, one poetry for Amitabh Ji himself and one portrait to Aishwarya Ji. She was not in Mumbai that time so I could not gift her through my hand but Amitabh Ji assured me that he would gift her on my behalf. Thank you very much Amitabh Ji for your greatness with simplicity. Below is the snap taken when I was reciting Babu Ji's poetry to him at his house 'Janak' in Mumbai on 27th November.
Guzarish, her latest work, directed by Sanjay Leela Bhansali who is a very well known and very successful director in Bollywood. He has already given super duper hits like 'Black', 'Devdas', 'Hum Dil De Chuke Sanam', … Aishwarya has done excellent job in this movie and same quality performance has come from Hrithik Roshan. My best wishes for the entire team of this movie !!
Your comments are most welcome on her sketch !!
Best Regards to all my loved ones,
Atul Ojhal