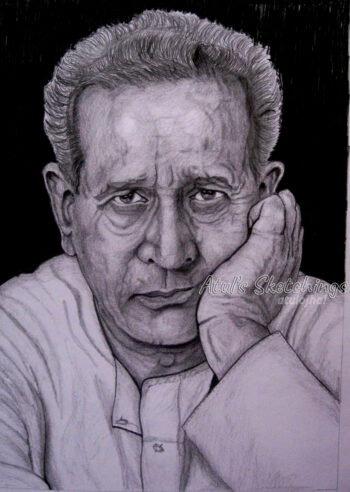 ---
Pt. Bhimsen Joshi ( Hindustani Classical Vocal Maestro )
Posted on: April 1,2014
---
Sorry for this delay guys. I am really late this time. Backache got aggravated once again. I had to reschedule all meetings with legends. Otherwise, I would have shared those glimpses with you all. But no worries, it will happen soon.
Let me share my past related to this post. We did not have a television at our home. We all brothers and sister insisted our father buy a TV. Those days B. R. Chopda's 'Mahaabhaarat' serial was becoming very famous. And one more thing was grabbing attention. The song "Mile Sur Mera Tumhara" sung by Pandit Bhimsen Joshi and some other vocalist. But the voice of Pandit Ji touched my heart a lot. This was the first time I knew him and heard. Throughout these years I used to keep humming this song. Though I scheduled him to sketch quite a long time back but got time now.
I would like to share one more story with you all. A few years ago I was sharing very precious time with Bhimsen Ji's students and colleagues. One of them shared this one. One day Pandit ji's concert was scheduled. He had to perform. But he was caught by cold and cough. Most of the organizers thought that today he would not be able to perform. Even he was reluctant to do so. But you know what happened to him suddenly. He asked to bring some green chilies. Once he got a handful, he kept all in his mouth and chewed. Yes, he chewed those chilies and came out to stage. He performed and got more appreciation than any other performances. So he was such a kindaa person… "हिम्मत मर्दे तो मदद ख़ुदा "
I would like to appeal all Indians to go for voting in this election going to hold over two months. That's the only right we have…come on guys, go and vote for India! I would encourage all of you to send only good candidates to the parliament. I have composed a slogan to encourage voters to vote. It is below.
"हमारा देश विकसित होगा तभी, जब मतदान को जायेंगे सभी"

Please do let me know your feedback on this artwork. Nowadays Navaraatey is running. Today is a second day. We worship Maa Brihmcharini this day. May this feminine eternal force bless us all with peace, love, and humanity!
I will try to come as soon as possible. Till then be calm and cool. And once again "Vote for India" ! 🙂
Regards & Love
Atul Ojhal