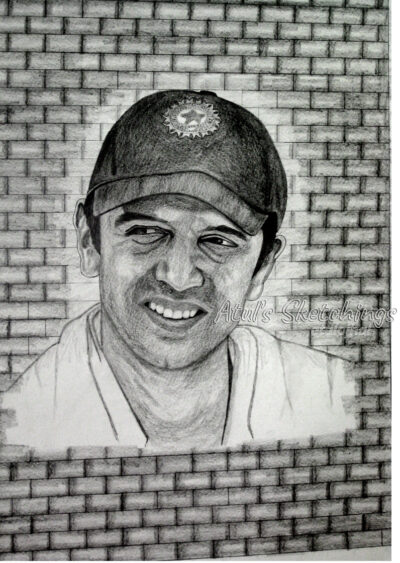 ---
Rahul Dravid (The Wall)
Posted on: January 11,2013
---
Hope you enjoyed my last art work of Grammy awardee Pt. Vishwa Mohan Bhatt Ji and snaps from his meet. This time I have posted one of best cricketers India ever produced, Mr Rahul Dravid. A gentle, humbled, dashing, handsome man. He served for India more than a decade. He received Padma Shri award in 2004 and a couple of awards from ICC. He played 164 Test matches and 344 ODI for India. He had been a game saver a bunch of times in his cricket career. That's why he became famous as Mr dependable. Because of his solid style batting, he became popular as 'The Wall' also. He is known as 'Jammy' among his team mates. I have tried to show his that solidity in my art work. Hope you guys love it and share it as much as possible.
I had a strong desire to meet him. One day I decided to meet him at his residence. I did went to his residence in Indira Nagar, Bangalore, holding this portrait. I met his most gracious proud parents and his brother there. I learnt from them that Rahul just left. He had lunch with them. I had a nice time with all the family members. I grabbed his parents blessing and left his house.The very next day I had a flight to Delhi and I could not get chance to meet the legend. Anyway, will meet sometime and present this art work.
Today is a very special day for him. 11th Jan., its his birthday. Not in person but at least I would send this blog-post link to him with his b'day wishes. Many many happy returns of the day. A very HAPPY BIRTHDAY Rahul Ji. We will always miss you in Indian team. You have done a lot to save India's dignity in sports field. Salutations !!!!!!
Ok friends, I shall come with next work soon. Till then, take care of yourself and have a nice time !!
Love & Regards,
Atul Ojhal Dube