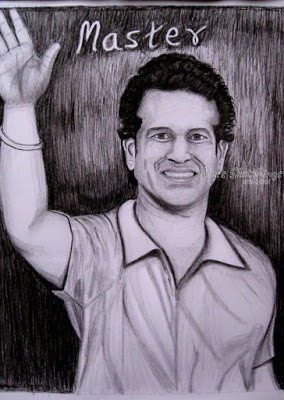 ---
Sachin Tendulkar (Master Blaster)
Posted on: November 19,2013
---
Ohh yes, history repeated once again. you know what ? .. I portrayed Rahman Saab couple of years back. Once I was done with the art work, the very next day he received the Oscar ! It happened once again when I completed Sachin's portrait. Once the portrait gets completed, he received the Bharat Ratna, India's highest civilian award. It might be a coincidence or Almighty listen to me sincerely 🙂 …Anyway, many congratulations to the Master and his well wishers !
I have been going through tough time. I am completely surrounded with life's difficult circumstances. My mother went under surgery. She had not yet recovered completely, my father fell ill. After couple of visits to doctor even he was advised a surgery. It was getting really tough to spare some time for my passion, for my life, sketching and specially sketching the one who is sitting in billions of hearts all over the world, the Master. I somehow scheduled it and spared some 15-20 minutes each day whenever I used to get chance after a well satisfied care of my parents. The portrait got completed while the master was completing his 199th test. I have tried to portray his 'Alvida' by showing his waiving hand.
Discussion over his records and on his life do not have an end. So not starting it now. It is known to everyone and the data is uploaded on bunch of sites. I am lucky to see Sachin's debut as well as his retirement. My debut as a viewer matches the date his debut as a cricketer. His debut was on 15th Nov 1989 and the same day I started watching cricket on TV and understanding the game of Cricket. He retired from the all types of cricket and I retire as a viewer on 16th Nov 2013 ! But no one knows the magic of Almighty. Someone may come once again and might entertain us more than the Master did. We should be optimistic as well ! 🙂
I would try presenting him my art work to the Master himself one day once the circumstances gets better. Hope it may happen soon. Wish me and bless me !
Enjoy this art work and your life as much as possible. Love and worship your parents. They are our immediate God, never let them feel alone. There is a humble request for all of you to share this post as much as possible if you like it.
Love & Regards,
Atul Ojhal